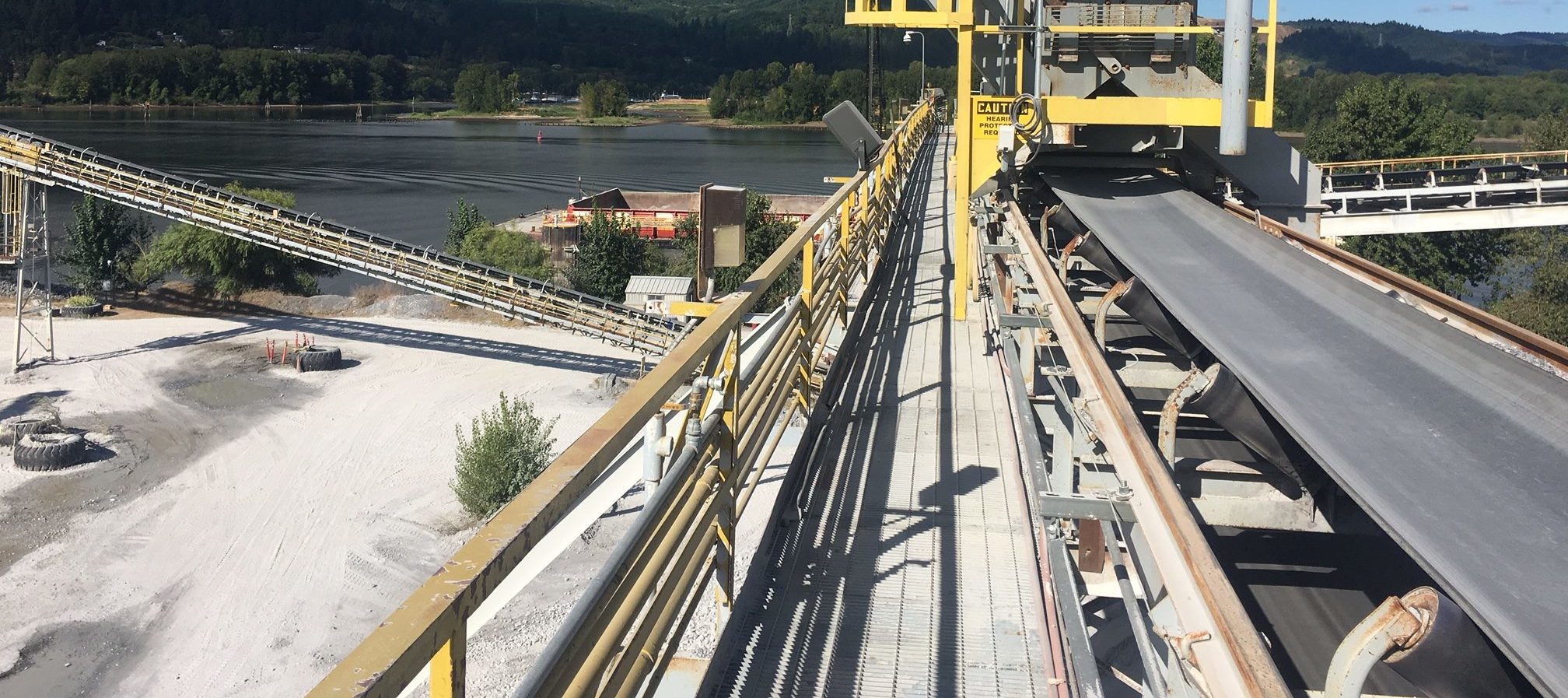 Fenner Dunlop celebrates International Day of Women and Girls in Science 2022
Fenner Dunlop celebrates International Day of Women and Girls in Science 2022

Conveyor Belts & Science
February 11th is International Day of Women and Girls in Science, which is a United Nations General Assembly initiative to further achieve gender equality in the field of science and the empowerment of women and girls.
In our history of over 150 years of conveyor belt manufacturing, we have learned that conveyor belts and science go hand and hand. Conveyor belts have to withstand an enormously wide range of physical and environmental conditions as well as increasingly tough safety demands. Because of the challenging operational conditions, conveyor belt design, manufacturing, installation and maintenance relies heavily on the scientific method, chemistry, physics, engineering, mathematics and technology.
In order to meet these demanding conditions, the conveyor belt requires a carcass construction that is capable of handling extreme strains and forces. At the same time, the rubber covers must have the resistance and durability to protect the valued carcass over a long period of time. Selecting the most suitable belt construction and cover compound type depends on several different factors.
At Fenner Dunlop, we employee globally recognized experts in the conveyor belting industry who have the skillset and knowledge to constantly optimize our conveyor belt performance to maximize our customer's uptime and revenue.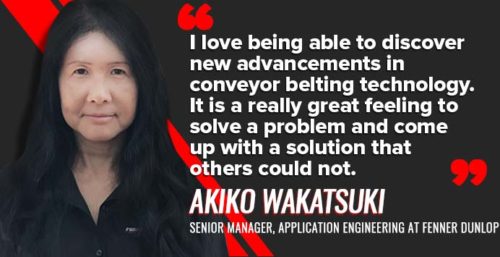 Women in Science at Fenner Dunlop
This year to celebrate International Day of Women and Girls in Science 2022, Akiko Wakatsuki, Senior Manager – Application Engineering at Fenner Dunlop, shared some insight into her 20 year career in the conveyor belting industry.
Tell me about your background — education, years in the industry, etc.
I studied Civil Engineering at Utsunomiya University in Utsunomiya, Japan. After graduation, I worked as an airport consultant where I supervised airport construction and design. Then, I worked as a scuba diving instructor for one year. In 2002, I began my career in the conveyor belting industry as a Conveyor Belt Engineer for Bridgestone. I joined the Fenner Dunlop Technical Team in 2008 and have been employed here since.
What are your primary goals/responsibilities as a Senior Applications Engineer?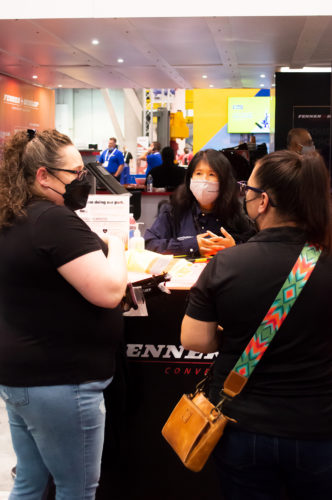 I have many goals and tasks that I am responsible for on a daily basis as Fenner Dunlop's Senior Applications Engineer. I design conveyor belts and oversee conveyor belt installation, which includes supervising splice design. I trouble shoot conveyor belts and components. I support Research & Development for all conveyor belt related technology including our belt monitoring systems. I create and maintain fabric weaving and conveyor belt manufacturing standards. I manage part numbers for products and raw materials. I review and approve belt specifications for quotations. I also network and serve as a representative of Fenner Dunlop's technical department at industry tradeshows.
What do you enjoy most about your position at Fenner Dunlop?
I love being able to discover new advancements in conveyor belting technology. It is a really great feeling to solve a problem and come up with a solution that others could not. For example, I have assisted in developing many cover compounds that have helped our customers in extending the life of their belt.
What are you most proud of during your time at Fenner Dunlop?
I am very grateful to be apart of the Fenner Dunlop team that focuses on gender diversity and racial diversity because the conveyor belting industry has been historically male dominated. In my 20 year career in this industry, I am proud that I can think outside the box to assist our customers, while also representing women in the field of science and engineering.
---
Fenner Dunlop Diversification & Feminization Mission
Fenner Dunlop is committed to diversifying and feminizing our company culture and talent. Diversity of minds, ideas and approaches allow teams to find solutions that take into the account multiple angles of a problem, thus making our solutions and products stronger, more well rounded and optimized. We have been actively implementing many initiatives to increase our representation at our manufacturing facilities and corporate office and our year over year percentage of women and diversity in the workforce is increasing.