The Fenner Dunlop Difference
Learn how we are different than competition
Learn how we are different than competition
With over 150 years of manufacturing expertise and 4 ISO 9001-2015 certified manufacturing facilities, Fenner Dunlop Conveyor Solutions delivers measurable, sustainable results in the field, day in and day out.
With Fenner Dunlop belting, you know you are getting the very best. Because we are publically traded, you can count on Fenner Dunlop to continue the tradition of being the market leader in conveyor belt manufacturing. Fenner Dunlop offers premium conveyor belting products across a wide range of markets. Our Industrial Products are organized by the market on the menu on the left.
Made in North America
We have invested more than $100 MM in our North American plants, including boasting the longest press in the world, a state of the art pressure equalizer that allows an even pressure applied to the entire belt vs. older technology. We are really proud of our new calender machine from Germany that has the latest hard pressure rollers to finish and smooth our carcass and cover compounds.
At Fenner Dunlop, we hold quality control in the highest regard. We accomplish this by ensuring the integrity of our conveyor belt manufacturing by monitoring each step of the production process. Our unique state of the art fabric weaving facility in Lavonia, GA is one of a kind in our industry. They recently purchased a treater that allows a superior adhesion of carcass to cover compound.
Production is then passed on to our conveyor belt manufacturing plants in Port Clinton, OH, Toledo, OH, and Bracebridge, Ontario. Focused attention is given to each belting order to ensure that the materials and processes used to produce a belt will assist the end-user in reducing operation costs, maximizing uptime, and improving revenue.
$100 MM in our North American plants
Longest Lasting Philosophy
THE TOUGHEST, HARDEST WORKING, LONGEST LASTING CONVEYOR BELTS IN THE WORLD!
We make all of our belts ourselves – we do not import from Asia or elsewhere.
We use only the very best materials in the production of each of our belts.
By weaving and treating our own fabric, we can ensure the integrity of our conveyor belting and monitor each step of the production process.
We set the standard for conveyor belts through our involvement with various organizations; all Fenner Dunlop belts exceed national standards.
We are the only one to perform extra steps in-house to maximize rubber to fabric adhesion via our one-of-a-kind RFL treater. The result is unsurpassed strength and durability. Pair this technology with advanced production equipment and the result is conveyor belting unmatched by any competitor.
We specially design our rubber compounds to out-perform our competitors.
We are mindful of the materials (repurposing when we can) for a more robust product and a better environmental footprint. Every belt is ozone and weather resistant.
We test, research and develop using our own facilities. We also partner with well-regarded institutes like our partner universities to validate our testing and research.
Every compound batch is quality tested in the laboratory before it is allowed to be used in belt production. Every foot of Fenner Dunlop belt undergoes the toughest quality checks throughout the production process.
We employ world-leading experts who provide first-class technical support. We have the best technical team who will ensure your belts last a lifetime!
Fenner Dunlop Laboratory
Research & Development
Fenner Dunlop offers a comprehensive product line of safe, high performance conveyor belting suited for unique applications such as recycling, high temperature payloads, steel/foundries and metal stamping. Years of research and development have gone into engineering and producing the toughest conveyor belts armed with the most advanced cover compounds to battle a wide variety of materials. Sharp metal, cherry red foundry material and chemical treated refuse are just some of the challenges Fenner Dunlop face head on to ensure your conveyor belting investment is protected.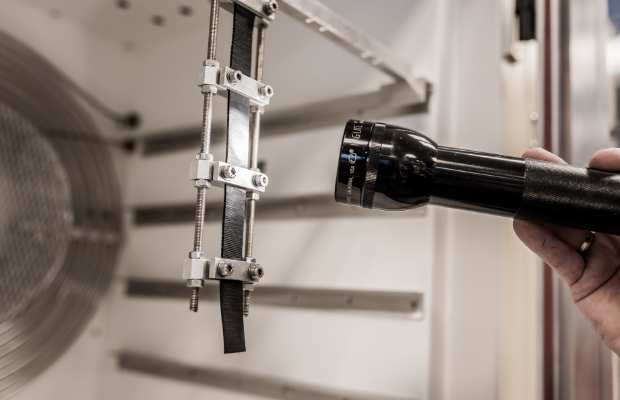 Distributors Map
World-class
Distribution Network
Fenner Dunlop America has a nationwide distribution network with the right availability and knowledge. Our network provides customer splicing services, belt installation and training, and 24/7 emergency support.
Read the real world case
X Series conveyor belts turns downtime into continuous uptime for limestone quarry.
Korey Kibodeaux, plant manager for Blue Water Industries, took over limestone quarry operations that were consistently experiencing downtime.  His crews were spending all of their time fixing or repairing conveyor belting, including having to come in on weekends and nights to keep the conveyor belts together just so they could run the next day. One of his belt systems had over 100 splices in a belt; re-splicing belts on daily basis was common occurrence.
Korey's response:

"This has got to stop. This is costing us too much downtime."  He called Fenner Dunlop and our Application and Technical Support Specialists quickly visited the quarry to assist in finding a solution to Korey's concerns. For the tough operating conditions in place, we recommended Nova-X F6 carcass construction due to its patented belt fabric design that provides 3 times better tear resistance and over 2 times better rip resistance than the competitive brands that caused Korey so much downtime.
This unique carcass construction was combined with Fenner Dunlop's premium Grade 1 ARPM Giant XE, low extraction cover compound due the dry and dusty nature at the quarry.  This high durability recipe offers excellent resistance to dedusting agents and hygroscopic materials, and can withstand extreme temperatures evident in most outdoor applications.  The overall result was more flexibility and quick reliability in conveying his bulk material.
"Fenner Dunlop Belting has been nothing but phenomenal for us. I can run 8,000 – 9,000 tons per day on my belts and not ever have to worry about system performance… that is saying something."
Today, Korey runs Fenner Dunlop conveyor belting on four of his primary conveyors. He installed Nova-X F6 on three systems and one system runs UsFlex® D6 belting. He also has three Nova-X belts installed on his other belt systems. For his light to medium duty conveyors, he has started to use Fenner Dunlop's Patriot X®.
Korey knows other plant managers in the industry who just buy on cheapest price and think they are saving money. Based on his experience, he warns that this is short sighted.  The cheapest conveyor solutions often result in additional operational problems; "If you are not running, you're not making money". Korey said anyone could do the math: "On average, we were spending the time of 3-4 crew men at a minimum of 3 hours of down-time, not to mention the cost of mate- rials and lost production time. Over time that is huge. With Fenner Dunlop, I have zero down-time."
With Fenner Dunlop belting, I get the job done and do not have to worry on how it will perform.