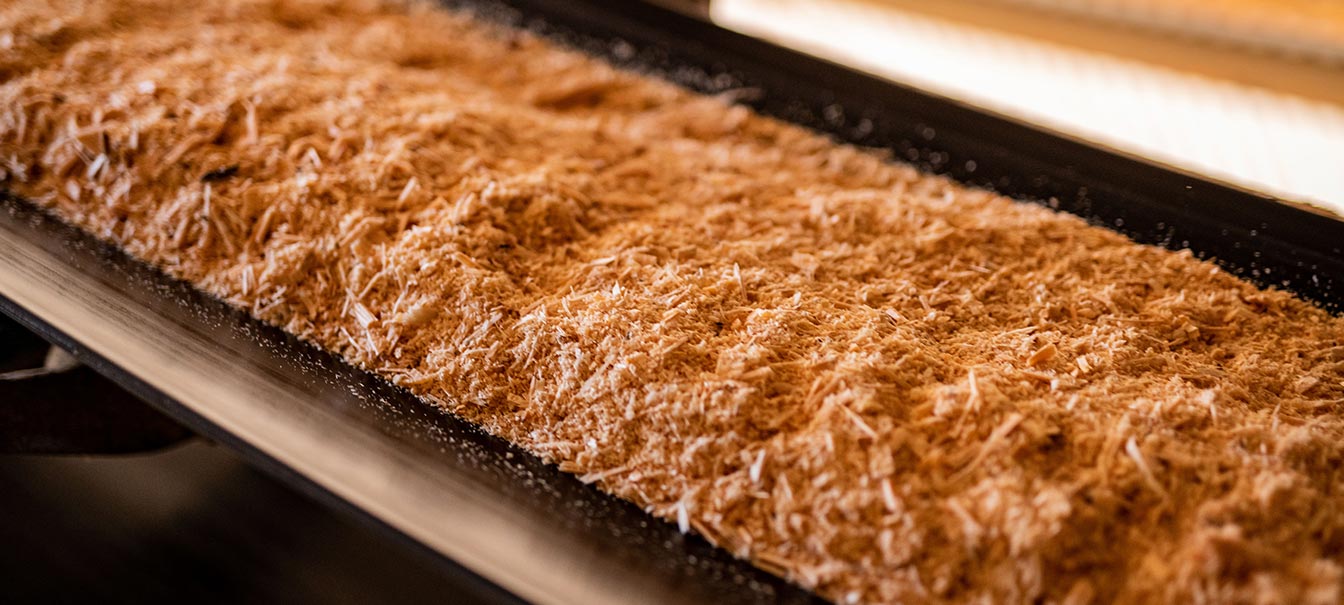 Fenner Dunlop offers premier solutions for bulk wood, pulp and paper handling industry
The wood, pulp and paper industry plays an important part of everyday life, especially during the COVID-19 pandemic where products like toilet paper and paper towels are in high demand and single-use, disposable items are increasingly encouraged.
Conveyor systems are a crucial component to this industry operating in paper mills, sawmills, board plants and other types of forest products facilities. In order for a conveyor belt to succeed in this industry, the belt must be able to withstand the harsh conditions that come along with this medium to heavy duty application.
In this blog post, we are going to explore the following conditions under which conveyor belts operate in the wood, pulp and paper industry and the solutions that Fenner Dunlop provides to ensure optimal conveyor performance and when faced with tough challenges like:
Terpenes and oil
Impact, ripping and tearing
Spillage and mistracking
Terpenes & Conveyor Belts
What are terpenes?
You've probably heard of or have smelled essential oils. Essential oils are derived from the terpenes found in plants. Terpenes are aromatic molecules that help give certain plants their distinctive smells. For example, pinene, the terpene found in evergreen trees, is responsible for giving the tree that woodsy, balsam aroma.
While terpenes have been found to have several positive effects on the human body, terpenes can have a negative effect on the overall performance and life expectancy of a conveyor belt. Over periods of time, terpenes can penetrate the the cover rubber, causing the belt to swell and cause cupping and/or weakening of the cover rubber.
Fenner Dunlop's solution to terpene damage

At Fenner Dunlop, we specialize in the manufacturing of conveyor belting with the industry's best cover rubber compounds that offers outstanding resistance to oils and terpenes. Each cover compound is derived and engineered from natural and/or synthetic rubber polymers. All our compounds offer an additional resistance from cover wear and the damaging effects of ozone and UV light.
Our MOR rubber compound is recommended for conveying wood chips, waste disposal, sewage, sludge and lightly oil-treated materials. This cover compound is resistant to moderately oily materials and terpenes and is designed to achieve the absolute minimum of swelling and distortion caused by these minerals… even on the most demanding of applications. We apply stringent American ASTM'D' 1460 standard test methods. Although oil resistant belts usually have a lower resistance to cold, Fenner Dunlop oil resistant belts are uniquely designed to operate in cold temperatures as well.
Impact, Ripping & Tearing
When you drop something heavy on your foot, your foot is likely to sustain some type of injury at the site of impact, whether it be bruising or bone fracture. Often this damage is under the skin. While conveyor belts obviously do not sustain the same type of injuries we do, they must constantly take hard hits in heavy duty bulk material handling applications that can cause detrimental damage to the belt. Sometimes this damage is obvious in the form of a rip or tear to the belt. However, damage is more likely to impact the fabric carcass, which is often discovered only after the belt has failed prematurely.
In the wood handling industry, enormous damage can be caused by big logs as they are loaded onto the conveyor belt or by pieces of timber or other objects becoming trapped between the belt and structure, ripping/tearing the carcass.
Fenner Dunlop's solution to belt damage in the wood handling industry
We are proud to offer conveyor belts that are specifically engineered to withstand the demanding conditions of the wood, pulp and paper industry. Our best-in-class conveyor belts will exceed your expectations.
Fenner Dunlop UsFlex

This carcass owes its outstanding impact and tear-resistant characteristics to an innovative woven straight-warp carcass. This consists of heavy strands of polyester running lengthwise and heavy nylon strands running crosswise held in position by a strong binder  yarn. The strands are completely straight in both directions and not interlocked as in a conventional belt carcass. This allows the weft to float free from the warp, thereby minimizing the peak point of impact because the energy is absorbed over a larger area, providing maximum protection to the carcass. UsFlex is available with covers specifically designed for wood, pulp and paper applications.

Fenner Dunlop Wood Supreme

This carcass within the Plylok Supreme series, successfully operates in paper mills, sawmills, board plants and other various types of forest product facilities. Wood Supreme is premium plied belting that provides superior impact and tear resistance, as well as adhesion values for heavy-duty applications. Its heavier weft construction allows for better load support.

Fenner Dunlop Wood Master

This carcass within our Plylok Master family, is our most economical plied belting for less demanding applications. It offers less than 2% stretch and has superb abrasion resistance. The increased gauge rubber between plies enhances energy absorption and impact resistance.
Spillage and Mistracking
Aside from carcass damage, there are a multitude of other issues that can cause premature failure to a conveyor belt in this bulk material handling application — spillage and mistracking.
Whether it is hogged fuel, wood chips or dust, spillage is problematic in the bulk wood handling industry because it gets in the way of routine maintenance and because it is flammable. Most spillage is centered around transfer points, although it is not always the case.
In specific areas, due to the high throughput volumes, spillage can become a big problem in a rather short amount of time! The build-up from spillage can create belt slippage as well as belt tracking, which can result in edge damage, splice damage and potential tripping out of drive.
Mistracking can also happen as a result of the leaching of terpenes and resins that can wreak havoc on the belt and the components. While we already discussed what terpenes are, resins are typically fusible and flammable organic substances that are transparent or translucent and are yellowish to brown in color.
Through this leaching process, several issues arise. First, the resins find themselves adhered to all surfaces. In doing so, dust, wood chips, bark, and any tramp materials also adhere to the components, creating build-up that is extremely difficult to remove. This build-up can create several issues, including mistracking, and potential splice damage and fatigue.
Fenner Dunlop's solution to spillage and mistracking in the wood handling industry
The issues that come along with spillage and mistracking in the bulk wood handling industry can pose a serious threat on your operation's uptime and revenue, but it does not have to be that way. The key to a successful conveyor system as a whole is regular surveying and proactive maintenance to prevent easily avoided damage to the conveyor belt.
At Fenner Dunlop, our highly experienced engineers, sales and services personnel and vast distribution network has the expertise to provide advice and practical assistance to help you protect your investment from this type of damage.
If you have a conveyor belt that needs to be replaced at frequent intervals, requires particularly high maintenance or perhaps performs poorly, then get in touch with us today. We are here to help you and your team succeed in the bulk wood products handling market.
---
Find your local distributor here or reach out to us at info@fennerdunlopamericas.com to inquire about pricing and availability of best-in-class bulk wood handling conveyor belts.